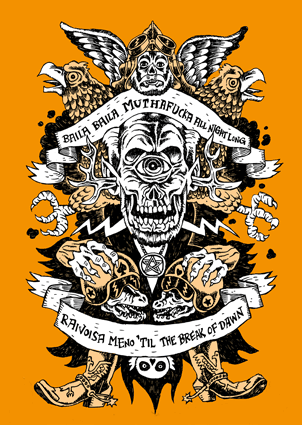 27 June - 14 July 2013
Titanik Finland
HeavyMerryFinland - Dutch Connection
At the mid-summer time Titanik gallery presents HeavyMerryFinland group show with Dutch contemporary artists. Welcome to the opening on Titanik gallery, Thursday 4.7. at 7 pm! The opening program includes e.g. Black Peider performance and Tero Juuti's Tattoo Dictionary -hand tattoos for brave guests. Finnish artists participating in the exhibition: Annika Kivi, Anssi Kasitonni, Tero Juuti, Laura Lappi, Maria Stereo, Noora Federley, Jouna Karsi, Petteri Tikkanen, Ville Pirinen, One Love-artist group. Dutch guests are Abner Preis, Atladottir & d'Ors, Daan de Houter, Jeroen Kuster, Katharina D. Martin, and V & B.
www.titanik.fi - Itäinen Rantakatu - 820700 Turku -ti-pe 12-18 - la-su 12-16 - Reception 04.07.2013